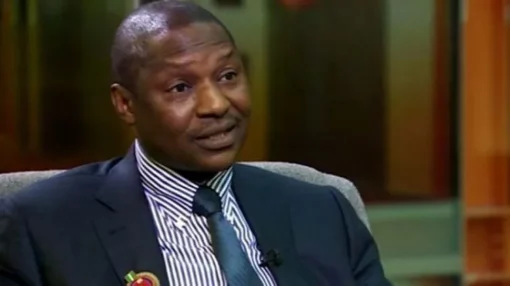 The Federal Government announced that it has launched a committee that will implement policies for effective and efficient management of illegally refined products recovered from dug-up pits found around the creeks of the Niger Delta.
This was disclosed by the Attorney-General of Federation and Minister of Justice, Abubakar Malami, SAN, at the inauguration ceremony of the Inter-Ministerial Committee on the Recovery of Illegally Refined Petroleum Product (Crude Oil) in the Dug-Up Pits found around the Creeks of the Niger Delta, in Abuja.
Malami said the exercise is in line with the policy of the current administration on security and economy as well as preservation of the environment from negative hazards.
He added that the mechanism was agreed to by the relevant stakeholders and submitted to the HAGF who considered and approved the establishment of the Inter-Ministerial Committee (IMC) for the purpose of implementing the Mechanism known as ''Standard Operating Procedure'' (SOP) for the recovery of illegally refined petroleum products (crude oil) in the Dug-up Pit found around the creeks of the Niger Delta.
"The IMC shall be guided by the SOP as developed project, adding that the content of the SOP is drawn from the provision of the Asset Tracing, Recovery and Management Regulations 2019," he said.
Members of the Committee were drawn from relevant MDA's whose mandates relate to defence, security, environment, petroleum and asset recovery. They are Federal Ministries of Justice, Defence, Environment, Defence Headquarters, Nigerian National Petroleum Corporation.
Others are the Nigerian Army, Navy, Nigerian Security and Civil Defence Corps, Department of Petroleum Resources; and National Oil Spill Detection and Response Agency.
Credit: Nairametrics
ENJOY FREE CONTENTS FROM US

IN YOUR EMAIL
Breaking News, Events, Music & More
Thank you for subscribing.
Something went wrong.