US Blames Iran For Twin Drone Attacks On Saudi Oil Facility
US Secretary of State Mike Pompeo has blamed Iran for Saturday's drone attacks on Saudi oil facilities.
He dismissed a claim by Yemen's Iran-backed Houthi rebels that they had attacked the two facilities, run by state-owned company Aramco.
Saudi Arabia's energy minister said the strikes had reduced crude oil production by 5.7 million barrels a day – about half the kingdom's output.
Correspondents say they could have a significant impact on world oil prices.
TV footage showed a huge blaze at Abqaiq, site of Aramco's largest oil processing plant, while a second drone attack started fires in the Khurais oilfield.
The Saudis lead a Western-backed military coalition supporting Yemen's government, in opposition to the Houthi rebel movement.
The attacks also come against a backdrop of continuing tension between the US and Iran, following US President Donald Trump's abandonment of a deal limiting Iran's nuclear activities and reinstatement of sanctions.
In a tweet, he said there was "no evidence" the drones came from Yemen.
He described the attack as "an unprecedented attack on the world's energy supply".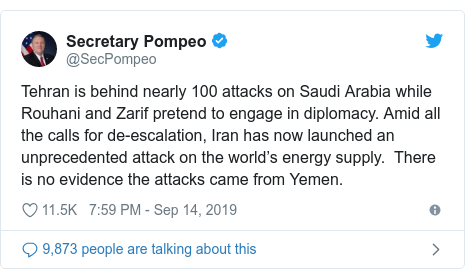 "We call on all nations to publicly and unequivocally condemn Iran's attacks," Mr Pompeo added.
The US would work with its allies to ensure energy markets remained well supplied and "Iran is held accountable for its aggression", he added.
The White House said Mr Trump had offered US support to help Saudi Arabia defend itself.
ENJOY FREE CONTENTS FROM US

IN YOUR EMAIL
Breaking News, Events, Music & More
Thank you for subscribing.
Something went wrong.